The UserTutor Community is designed for individuals who are seeking to expand their professional skills and resources, as well as those who wish to share their professional experiences.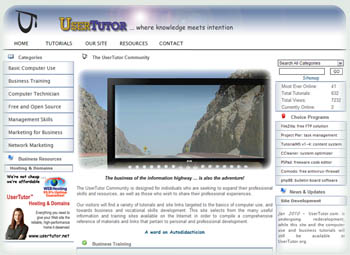 Visitors will find a variety of tutorials and site links targeted to the basics of computer use, and towards business and vocational skills development. This site selects from the many useful information and training sites available on the Internet in order to compile a comprehensive reference of materials and links that pertain to personal and professional development.
Basic Computer Use:
This category contains links to some comprehensive training sites for the basics of computer use. Here you can find information related to specific operating systems and programs.
Business Training:
Whether you are starting your own business, or seeking to advance your skill sets in your current vocation, you will find useful skills training links in this category.
Computer Technician:
Learn more about computer hardware and software, and networking, through these category resources. Training information related to CompTIA certifications for A+ and Network+ can be accessed through here.
Free and Open Source:
Who doesn't like free? The program links are for software products that UserTutor representatives have direct experience with. Though we do not offer any warranty or guarantee for the linked products, or assume any liability for their use, we can recommend them based on our personal experiences.
Management Skills:
Whether time, or money, or our conduct and presentation – in business they all require effective management. This category provides links to training relevant to professional management skills.
Marketing for Business:
The greatest product or business in existence remains minimally effective if it is not known. The effectiveness of marketing in business can have a profound impact on its ongoing success. Increase and enhance those skills through the tutorial links in this section.
Network Marketing:
Multi Level Marketing often comes with negative connotations, but it forms an integral part of our economy, exisiting in and alongside mainstream business. This category sheds light on MLM, putting it in a better understood perspective, and provides skills training links for those currently in or considering a career in network marketing.
Visit: www.usertutor.org