Bargain Central Discount Store has been a staple in the Fort Erie, Ontario community for over two years providing quality new and used merchandise at very attractive prices.
Bargain Central
82 Wintemute St
Fort Erie, Ontario
905-994-9999
facebook  |  Google map
They offer an eclectic collection of furniture, appliances and home decor to the residents of the Fort Erie and Niagara region.  Each item they add to their stock is meticulously cleaned and tested for usability before the price tag goes on.  The service is friendly and they are very knowledgeable about the many items in stock, and delivery is available – even set up, if required.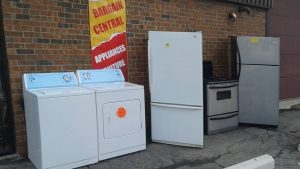 Bargain Central is family owned and operated, and it is their dedication to the business and willingness to work that has led to their success at delivering added value to their community and region.  It was also this same practice of good business requiring sincere effort that buoyed our enthusiasm to work with them in establishing an eFranchise that continues to offer diverse products and quality, but at a larger scale.
There are presently three locations available to shop online: Fort Erie, Ontario and High River and Okotoks in Alberta with more locations in the planning.  Each location is individually operated by an approved eFranchisee and offers a selection of products from vendors within that region.
Vendors in every eFranchise location are required to undergo a close review process and probationary period  in order to sell their product lines on the website.  They come from various backgrounds of small to medium size business and include commercial retailers, home business operators, drop-shippers and importers, and garage sale/auction enthusiasts.  A continuous supply of quality product is the initial requirement for applying as a vendor.
Each location, in addition to reflecting the core values of good quality and attentive service, serves to encourage community involvement and support.  The on-line auctions are a means to increase consumer interest and to help raise funds for local events and causes.  Vendor opportunities encourage and support e-commerce as a primary business or as a supplemental income.  For eFrancisees it is their opportunity to operate their own business under the Bargain Central brand with full technical support in place.  The on-line capabilities are already built and ready to be utilized.
The Bargain Central eFranchise serves in the development of on-line sales and service, creating business opportunities, encouraging employment and growth, and supporting the local communities.  It is the dedicated and hard work behind Bargain Central, Fort Erie and their drive to offer quality new and used bargains, coupled with the technology and support built into the Nositeunseen network system.  And it has been our great pleasure to work alongside and bring a great idea and excellent business model on-line.
To others considering e-commerce pursuits, our eFranchise opportunities are still available.  We are always ready to partner alongside a good concept and hard work.